The Pakistan Jobs team has launched several Whatsapp groups for our users convenience to send alerts for Government jobs along with free job alert for top private and multi national companies. It is important to note that each Whatsapp group has limited number of sports so if you see a group is filled, please see other group if you can join. With multiple groups, we will try to accommodate each and every one who is interested in daily notifications for jobs in Pakistan. Please note that Whatsapp groups have a limit of 1024 members. We are keeping track of all groups live here. In case you are unable to join a group, simply check out other group.
List of Main Whatsapp Groups for Top Private, Multinational and Government jobs in Pakistan

Please join only ONE group, because we share same alerts in all our groups
Also See: ⚡ Join Pakistan Jobs Telegram Channel for Latest Career jobs, application forms & updates
Get Top Govt Jobs in Email
*Check inbox to activate after subscribing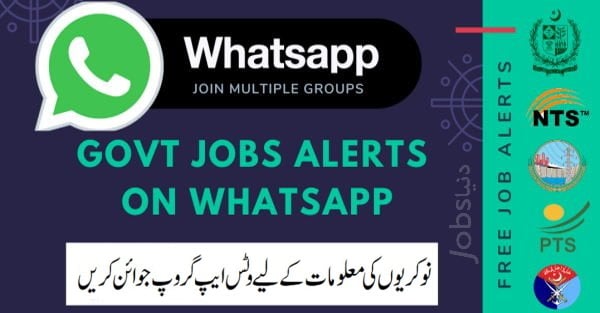 Joining a WhatsApp group for job openings in Pakistan can be a good way to stay updated on job opportunities and to network with other job seekers. There are many WhatsApp groups dedicated to job openings, and you can join these groups by being added by the group administrator or by being invited by a member of the group. To find WhatsApp groups for jobs, here you can find your desire group which you can join for free, recommend to friends or professional contacts. It is important to be mindful of the rules or policy of any group that you join and to respect the rules and guidelines of the group.
Please join only one Whatsapp group for jobs in Pakistan, similar alerts are sent to all groups so you don't have to worry about missing out on any update from our side.