Government Jobs 2023
Latest Government Jobs 2023 in Pakistan for Federal, Punjab, Sindh, KP and Balochistan.

All Government Jobs in Pakistan 2023 today with list of latest Jobs and vacancies updated under Federal and Provincial Governments including Islamabad, Punjab, Sindh, KP and Balochistan. You can find latest Pakistan Jobs advertisements in 2023 here posted date-wise for job seekers across all cities in an easily accessible manner. Jobs here are updated on daily basis from Government departments and ministries with fastest updates so that you never miss an opportunity. You can further keep yourself informed by subscribing to daily alerts for Government jobs in Pakistan through multiple channels available for job-seekers as listed below.
Government Jobs in Pakistan 2023 Online Apply in Islamabad, Federal Govt, Punjab, Sindh, Balochistan & KPK
Applying to public sector and government jobs in Pakistan can be time consuming at times but that shouldn't put you off from applying. With 1000s of daily jobs announced in Pakistan, you have always the opportunity to get a chance for government vacancy in your city. Government jobs or as they call it Sarkari Naukri are popular in Pakistan due to benefits and lucrative perks. Hundreds of Federal and Provincial Government departments and ministries announce vacancies on daily basis. These vacancies can be for local domicile (of that province) or for Pakistani nationals depending on the organization.
Latest Government Jobs in Pakistan today
Latest (All) | Federal | Punjab | Sindh | KP | Balochistan
A total of 12500+ vacancies in both Federal & provincial government organizations are available in Islamabad, Lahore, Karachi, Peshawar, Quetta & other major cities updated today.
Featured / Trending Govt Jobs 2023
| | | |
| --- | --- | --- |
| NADRA Jobs 2023 | 1000+Data Entry Executives, Dy Directors / Trainees, Jr Executives and Other | 20th December 2022 |
Testing & PSC in Pakistan
NTS | PTS | OTS | FPSC | PPSC | SPSC | KPPSC | BPSC
Govt Jobs Posted on 30th January 2023
| | | |
| --- | --- | --- |
| BHS Pakistan | 80+ Steno Typists, Clerks, Drivers, Attendants and Other | 13th February 2023 |
| WAPDA Jobs 2/2023 | 125+ Staff Nurses, MOs, GDMOs, Specialists, Registrars, Radiologists and Other (Lahore, Okara, Tarbela, Attock & Other) | 13th February 2023 |
| SECP Pakistan | Assistant Directors, Deputy Directors, Dy Registrar, Admin, Accounts, IT, Legal and Other | 13th February 2023 |
| Oil & Gas Organizations Pakistan | Managers, Managing Director / Chief Executive Officer, Trainee Engineers, Security Officers and Other | 13th February 2023 |
| HBFC Jobs 2023 | Managers, Assistant Managers, Branch Manager and Other (Various Cities) | 12th February 2023 |
| FWO Jobs 2023 | Managers, Assistant Managers, Edu, Admin, Finance, HR, Lab Attendants and Other | 14th February 2023 |
| Pakistan Machine Tool Factory (PMTF) | Trainee Engineers, Management Trainees, Junior Officers, Managers, HR, JCO/NCO and Other | 13th February 2023 |
| NAVTTC Pakistan | Program Assistants and Research Associates Vacancies | 13th February 2023 |
| PO Box 758 NGO Organization | Project Managers, Coordinators, DEO, Steno Typists, Drivers, Office Staff and Other | 25th February 2023 |
| WAPDA Jobs 2023 | Field Inspectors / DAE, Technical Advisors, Staff Nurses, GDMOs, MOs, Specialists and Other | 12th February 2023 |
| Utility Stores Corporation (USC) | Marketing / Procurement Heads, IT Staff, App Developer and Other | 10th February 2023 |
Govt Jobs Posted on 28th January 2023
| | | |
| --- | --- | --- |
| WAPDA Jobs 2023 | Field Inspectors / DAE, Technical Advisors, Staff Nurses, GDMOs, MOs, Specialists and Other | 12th February 2023 |
| Utility Stores Corporation (USC) | Marketing / Procurement Heads, IT Staff, App Developer and Other | 10th February 2023 |
| Ministry of Science and Technology Pakistan | Field Officers, Assistant Directors, Technical, SDC, QMC and Other | 3rd February 2023 |
| Ministry of Industries & Production Pakistan | Data Scientist, IT Engineering, Dept Heads, Marketing, Procurement and Other | 10th February 2023 |
| DHA Valley Islamabad Organization | Managers, Admin, Procurement, Supervisors, Technicians, Engineering and Other | 10th February 2023 |
| Overseas Employment Corporation (OEC) Pakistan | Electricians, Deputy Director and Assistant | 6th February 2023 |
| COMSATS University Islamabad | Teaching Faculty (Various Departments) | 12th February 2023 |
| PO Box 72 Public Sector Organization | Revenue Consultant, Driver and Naib Qasid Vacancies | 11th February 2023 |
| Punjab Daanish Schools | Teachers / Teaching Staff (Faisalabad District) | 14th February 2023 |
| University of Faisalabad | Research Associate and Fellowship Vacancies | 15th February 2023 |
| PPHI Sindh | Vaccinators (Various Districts) | 6th February 2023 |
| Health Department Sindh | Teaching Faculty Vacancies | 11th February 2023 |
| University of Narowal | Lectures, Assistant Professors and Teaching Faculty Vacancies | 14th February 2023 |
| Frontier Corps (FC) | Clerks / Clerk Sipahi Vacancies (Punjab, Sindh, KP & Balochistan) | 20th March 2023 |
| UVAS University Lahore | Project Director and Manager / Executive Engineer Vacancies | 13th February 2023 |
| USAID Pakistan | Procurement Assistant and Enterprise Development Specialist | 9th February 2023 |
| Agriculture Department Balochistan | Stenographer, Field Assistants, Drivers, Baildar and Other | 13th February 2023 |
Apply to Government Jobs in Pakistan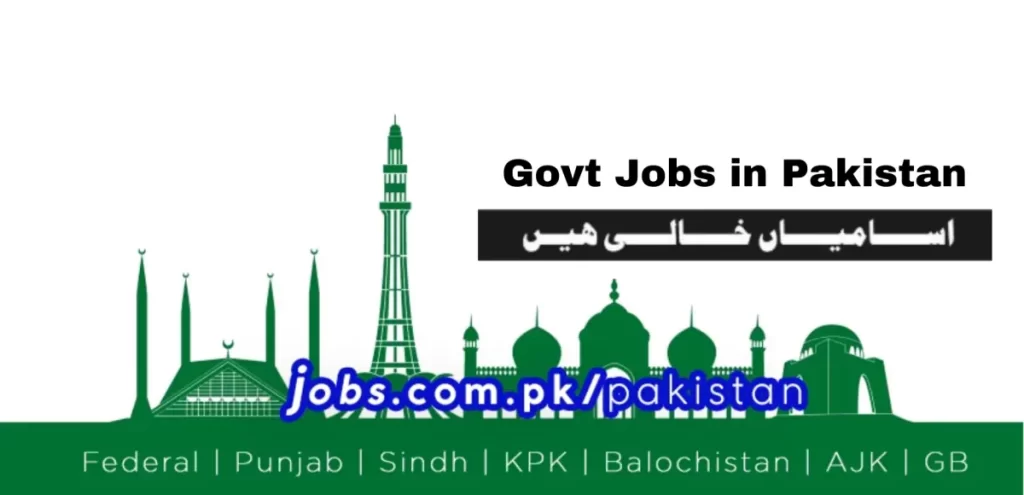 The Jobs.com.pk keeps track of all Govt Jobs and Govt training opportunities here from major Govt Departments, Ministries and state-owned organizations posted through their official websites, Public Service Commissions (FPSC, PPSC, SPSC, KPPSC, BPSC), NTS, PTS, OTS, TEVTA and other organizations where you can apply online to government latest vacancies or submit your resume/cv to appropriate department.
You can get vacancies update in Pakistan with complete list of all Government jobs in Pakistan for the current year where you can find information on how you can apply and register for various opportunities. Here you can search for Pakistan jobs by qualification, skills, education or job title in major Pakistani cities.
Some Government organizations in Pakistan allow you to apply offline only, some only allow online and some both. You must be careful when submitting the application and pay special attention on few things that will ensure your first step is taken in the right direction. Each job notification has details for the required educational and experience requirement but generally below are some key points you need to keep in mind.
Govt vs Private Jobs? Which one is best in Pakistan?
Government jobs in Pakistan are always considered to be a lucrative option for job seekers and fresh graduates from colleges and universities. Due to the increased level of job security most people want to get hired in government departments and preferred these jobs over private sector jobs. In addition to good pay, job security and handsome perks, here are few things to consider if you are looking for government or public or private sector jobs in Pakistan:
Job security
Pakistan public sector continues to be the largest employer of the country. The first and foremost advantage of doing a government job is high level of job security associated with it. Any person who is working for an employer expects to keep working under all normal circumstances. Therefore having the security that you will not lose your job through any good or bad event is a plus point for any job doer. This helps him or her to have a secure future with a permanent job. It will require very hard and strong evidence against his performance to lay him off the job.
In private sector jobs there is no job security available for the long term. Most of the jobs and appointments are hired on contractual basis and the company reserves the right to dismiss any employee with 14 days or more notice period. While large number of companies operate in the private sector, smaller companies are prone to financial or economic meltdown easily. Even the large companies always have the risk of shutting down or going out of business. This risk is minimum in government sector organizations where chances of government closing down a specific department are almost zero.
The Salary or Compensation
Private sector jobs can pay hefty amounts for some roles, others have good pay packages with decent compensation if compare it to public sector jobs. The Public sector jobs, however, offer lucrative perks and many non-monetary benefits to its employees. The combine value and benefits for such jobs make many candidates or job aspirants consider government career as best for them in Pakistan.
The non-monetary benefits help them get all expenses paid services in the fields of medical and health related problems. This medical entitlement is for not just the employee but his whole immediate family. Then there is the facility of accommodation. Many government jobs allow you to occupy a government house or apartment free of cost or payment of very nominal funds. In other cases you may be given a handsome amount of house rent allowance. Many government posts also entitle the employee to monthly consumption of fuel, utility bills, educational allowances and travelling expenses.
On higher appointments you can also be allotted a vehicle for commuting from one place to another. All these factors add a plus point for the government job versus the private sector jobs. Many of the private jobs also provide these perks and additional benefits but not as much as the government jobs. They are only a set percentage of the basic salary package.
Retirement benefits
All government jobs offer retirement benefits and pensions as well. The life of a retirement government official is much more lucrative and relaxing than a private job individual. Government jobs offer provident funds, gratuity and constant pension after the employee get retires after a specific period of time. These funds help him settle in a better way after he loses his job and is at an age where his efforts are reduced as well. The benefits of medical and educational facilities also remain even once the employee has retired from the government job.
Allied services
Being government employee in Pakistan makes you eligible for a number of quotas and services. In all types of national and welfare schemes government employees are given preference. Their children are also offered larger number of seats in a number of educational institutions and special rates of tuition fee. They are also eligible to apply for loans and advance pays from their own government department at nominal and rather low rate of interests.
Promotion and Increments
Promotions and pay raises are mostly based on fixed time periods and achievement of some basic targets. The career passes through a set progression of appointment levels and specified intervals are achieved as they move up. The pay is also increased at a standard pattern of pay scale. In private sector the promotion and increment is dependent on the performance of the employee and how he has contributed to the profit making of the company.
Those who achieve targets quickly and at a faster pace move up the career path much easily than those who are left behind. The level of pay range and increment also depends on how well your manager appraises you and forwards a better performance report. Private sector is much more hard and harsh when it comes to promoting the employees or rewarding them.
Administrative Powers
One of the most lucrative factors that attract people towards government job is the high levels of power that comes with high appointments. Administrative powers are immense at such jobs in Pakistan. Private jobs do not offer any such intangible perks to their employees. In private jobs you are supposed to do all your administration and coordination yourself most of the time.
How to Apply for Government Jobs in Pakistan
Each notification has the apply method (Can be online or downloadable form)
Fill out the form with your details (NIC, Name, Date of Birth, Father Name etc)
Scan the Required Documents and Upload (In case of online application)
You may have to pay the fee (see if challan form is required as per NTS/PTS or other organization)
But not all organizations require you to pay fee (so look for it in requirement for each notification)
Submit the Online Application (Or send the application form to given address in case of offline apply)
Browse More Government Jobs by Province in Pakistan (See Complete List)
The provincial government vacancies are further categorized by federal, provincial, AJK and GB. You can find the most comprehensive career resources if you are specifically looking for jobs domiciled in Punjab, Sindh, Balochistan and Khyber Pakhtunkhwa, see details below:
FAQs – All yours questions answered
What Govt jobs are announced this week?
Over 15500+ vacancies are currently available that include this week jobs announced at prestigious organizations like NADRA, CPEC, SSGC, Oil & Gas, OGDC, FPSC and other organizations.
Why are government jobs so popular in Pakistan?
Government jobs are very popular in Pakistan due to great benefits, job security and ofcourse perks. The main reason they are popular is because of the job security which the private sector fails to provide. Other factors which people consider are government pension after retirement, work-life balance and additional perks by scale.
What is the minimum education required to apply to Govt jobs in Pakistan?
Almost all Pakistani nationals with basic education can apply to govt jobs. All candidates who are middle, matric, inter pass, graduate and post-graduates can easily apply based on their qualification. Most of the jobs announced will require intermediate or bachelor degree in relevant field.
How can I find Govt jobs in Pakistan?
Our website offers a great deal of govt jobs updates which are updated on daily basis through authentic sources that also include departments and organization's websites.
How can I apply to Government job in Pakistan?
Once you determine the eligibility criteria for each post, you can easily apply to a specific post. Each notification has the apply method mentioned in detail. Depending on the organization, you can either apply online through Test service or directly at the organization website. You can also apply through walk-in interviews or through mail.
What documents are required to apply at Govt organizations?
Since only eligible candidates may apply to such organizations, all candidates must provide original or verified copies to apply to government jobs in Pakistan. Again, depending on the organization, you may be required to provide CNIC copy (for domicile & nationality purpose), passport size photograph and educational documents that may include all certificates, diploma and degree earned.
How can I download application form or notification?
You can easily get the job notification or download the application form (in case of offline mode) here on this page. In order to download the form, you can open the specific jobs announcement and scroll down to the bottom section where it says "Important Links and form download". In case of online form, you can also visit the official website where you can submit form online.
How can I get free Govt jobs alerts?
You can subscribe to jobs.com.pk free job alerts through multiple channels including email, social media or web push notification service to get daily updates of all jobs announced.
Learn more about Govt Jobs in Pakistan: